The Jewish Center's Book Club reads
and discusses books of Jewish interest.
Our Book Club usually meets on the third Tuesday of the month.   Relax with a good book — and then join us for a lively and engaging discussion.  Everyone is welcome to participate, whether you enjoyed the book or not, and even if you haven't finished it.
Multiple copies of our selections are usually available at the Princeton Public Library on the "Book Club" shelves.  Or you can purchase the book from Amazon. Every time you go to Amazon from our website, The Jewish Center earns up to 15% of each sale. 
To request more information please click here.
Tuesday, March 21, at 7:30 p.m. via Zoom.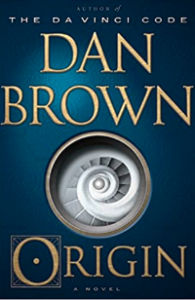 In "Origin," the brash futurist Edmond Kirsch comes up with a theory so bold, so daring that, as he modestly thinks to himself in Brown's beloved italics, "It will not shake your foundations. It will shatter them." Kirsch is of course addressing The World, because that's the scale on which Brown writes.  (New York Times)
For future planning, save these dates and read these books:  
April 25 – Mr. Perfect on Paper by Jean Meltzer
May 16 – Run You Down by Julia Dahl
As usual, all of our books can be ordered online and you can click on the Amazon Smile link to choose us as your charity, and earn a commission for the Synagogue: www.smile.amazon.com
If you'd like your name removed from our email list, please let me know, but please remember that all other Book Club business should be sent to Louise.
Be safe! Stay well! 
Regards,
– Donna
Take a look at our past books...
Pam Jenoff's The Orphan's Tale
Deborah Levy's The Cost of Living
Daniel Silva's The Other Woman
Talia Carner's  The Third Daughter
Dara Horn's  In the Image
Goldie Goldblum's  On Division
Rachel Kadish's   The Weight of Ink
Dani Shapiro's The Inheritance
Isabella Hamad's The Parisian
Evie Grossman's Hidden in Berlin: A Holocaust Memoir