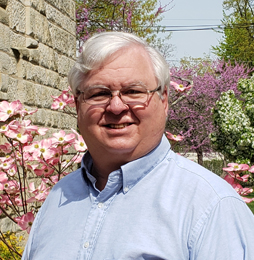 Joel Berger
Executive Director
Joel has been in Jewish communal work in South and Central Florida for 30 years. Joel completed his tenure as CEO of the Rosen JCC in Orlando and before joining the JCC, Berger was the Executive Director at Temple Israel of Greater Miami where he served for three years. Previously, he served six years as Executive Director of Beth David Congregation in Miami, where he led the synagogue's successful 2012 centennial campaign. Previously, he was Executive Director of University of Miami Hillel in Coral Gables, and earlier served as youth, camp and Executive Director at Beth Torah Benny Rok Campus in Aventura. 
Berger has done non-profit consulting work with Pisgah Consulting out of Atlanta, Georgia and Joel was also a founding member of The Collective, a consortium of over 300 non-profits in the Orlando Area. Joel has served two years as the President of the Florida Association of Synagogue and Temple Administration, which offers its professional members networking, education and training activities.   
Joel is a guest speaker on a wide variety of industry topics. Adept at managing multiple projects, leading cross-functional teams, and driving program success across functions. Strong relationship building, decision-making, communications and problem solving capabilities. Excellent knowledge in areas of security and employee benefits.
Joel was recently elected to the board of NAASE, the North American Association of Synagogue Executives serving a two year term.  He was also recognized for over 18 years of service as an Executive Director in the Conservative Movement.
An alumnus of Case Western Reserve University in Cleveland, Berger holds an MBA in Marketing and Finance and a BS in Management/Management Information Decision Systems.
Joel is married to Gloria Gorman Berger, and together they have two children, Stephanie and Lauren, and he looks forward to being a part of The Jewish Center for many years to come.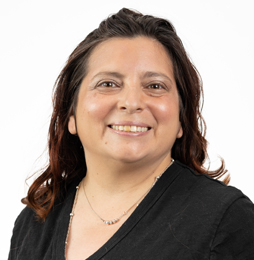 Sharon Diamondstein
Director of Congregational Learning at The Jewish Center of Princeton

Sharon Diamondstein was born in Israel and moved to the United States at the age of three.  Sharon grew up in Millburn, New Jersey, with her parents, Michele Franck and Israeli singer Shabi Katzir, and her sister, Daniella.   She received her religious education at Congregation B'nai Israel, where she always enjoyed actively participating in t'fillah (prayer) and music.  
Sharon serves the Jewish Center of Princeton as Director of Congregational Learning with more than 20 years in Jewish, public, and private education.  She has taught at Anshe Emeth Memorial Temple in New Brunswick and at Congregation Kehilat Shalom in Belle Mead.  Also, Sharon taught at Yeshiva at the Jersey Shore in Ocean Township and at Temple Beth Ahm Yisrael in Springfield, NJ.  Through her experiences in the various branches of Judaism, she has found there are unifying threads and what unites us is stronger than what divides us.
Sharon seeks to find Torah in the every-day world around her, and can often be heard saying, "there is Torah in this."  Driven by a strong call to help others connect to Judaism, Sharon has always had a passion for supplemental education. She loves bringing Jewish values to life and showing others the world through a Jewish lens. Sharon will tell you that she is "living her dream," instilling both love and meaning of Judaism in others.
An avid Disney fan, Sharon has an extensive collection of Disney Tsum Tsum figures in her office.  In her free time, she enjoys cooking, watching Disney movies, reading, and spending time with close friends and family.
Sharon currently lives in Highland Park with her husband Marc, and her two sons, Eric and Jason, who love learning at the Jewish Center, and her two dogs, Jack and Dory.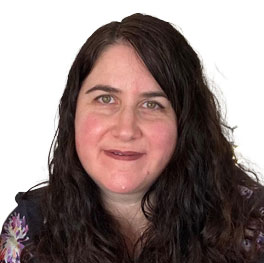 Emilie Kovit
Director of Programming and Engagement
Emilie is excited to be part of the staff at TJC. After years working in corporate publishing and Human Resources positions, Emilie felt drawn to the Jewish communal life. From 2013 to 2022, Emilie was the Executive Director of Congregation B'nai Israel in Rumson, NJ, a small to mid-sized conservative synagogue in the heart of the Jersey Shore, where among her myriad duties including running logistics for all synagogue programming, she thrived at engaging with membership of all ages. Now she has come to us where she will be able to capitalize on those experiences in her new role as Director of Programming and Engagement.
Emilie is a native New Yorker who moved to NJ in 2005. She lives in Middletown, NJ in Monmouth County with her husband, Dr. Andrew Meyer, a Chinese History professor at Brooklyn College, and her daughter, Ada, who is in her senior year of High School. She has a Bachelors degree in English Literature from the State University of New York at Binghamton and a Masters in Teaching English to Speakers of Other Languages (TESOL) from Hunter College.
In her free time, Emilie is a bookworm, reading a wide range of genres, loves crossword puzzles and the New York Times Spelling Bee, plays guitar and sings, and enjoys hanging out with family and friends and her two cats.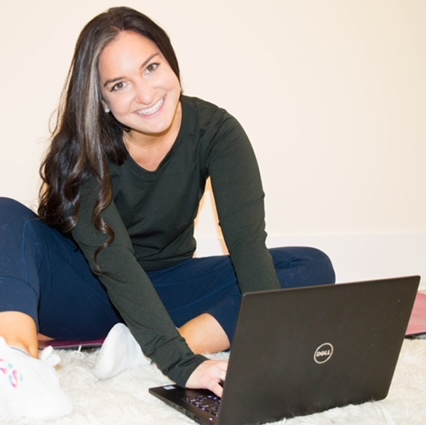 Stephanie Spielholz
Youth Director
Stephanie has been a member of the community for many years. You may know her as Stephanie Arons who had her bat mitzvah at TJC in 2004. You may know her from her many years working at the Joan Levin Nursery School Summer Camp.  You may know her as your child's Gesher LeKesher advisor. You may not know her but will meet her soon at one of our upcoming youth events. She is excited to bring her passion for Jewish community building back to the place that started it all for her.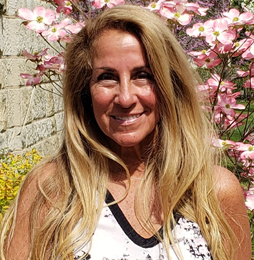 Cynthia Richman
Executive Assistant Religious School / Assistant to Rabbi Merow
Cynthia was born and raised in New York City, Brooklyn, Staten Island and then moved to Manhattan where she began her married life.
Cynthia moved to West Windsor, NJ to raise her children, Alex and Samantha.
Cynthia has been with TJC in many roles, beginning as nursery parent in 1998. She began teaching in the nursery school in 2004 until 2015 and then on to working in the religious school office. She also teaches our youngest learners in the Ganon class. Being affiliated with TJC has greatly enhanced Cynthia's Jewish experiences for which she is grateful.
Cynthia loves spending time with her family and friends. Enjoys traveling, dancing, concerts, Broadway shows, cooking and entertaining. She is an avid tennis player with a new hobby, pickleball. She lives with her husband, Tom and furry daughter Jessie.